praacheen misr ke vaastavik atuly doorasth yug
1. Udeeyamaan Ghaati
Misr Duniya Ke Sabase Shushk Kshetraon Me Se Ek Tha Aur Aaj Bhi Hai. Misr Ka 90% Se Adhik Ilaaqa Registaan Hai. Yahaan Neel Nadi Aur Usaki Shaakhaaon Ke Kinaare Ka Ilaaqa Hi Abaad Hai,  Jo Is Vishaal Desh Ka Keval Lagabhag 5% Bhaag Hai. Yah Upajaau Neel Ghaati 11-15 Kilometer Chaudi Ek Patti Hai.
Neel Misr Me Dakshin Se Uttar Ki Or Bahati Hai. Isaka Kaaran Yah Hai Ki Is Desh Ka Dhalaan Bhoomadhya Saagar Ki Taraf Hai. Kahira Ke Uttar Men, Neel Nadi Kayi Upanadiyon Me Vibhaajit Ho Kar Delta Ka Nirmaana Karati Hai, Jisase Kareeb 6,000 Varg Mile (15,500 Varg K.M.) Ka Ek Vishaal Hara Bhara Upajaau Ilaaqa Utpann Hota Hai.
Herodotus Ke Anusaar Misr Ki Neel Nadi Ka 90% Jal 100 Divaseeya Vaarsik Baadh Ke Mausam Me Ata Tha (Aur Yah Silasila Aaj Bhi Jaari Hai), Jaisa Ki Usane Apni The Histories (2, 92) Me Likha Hai:
…Garmiyon Ke Charam Kaal Me Paani Badhana Shuru Ho Jaata Hai, Aur Yah Prakriya Sau Dinon Jaari Rahati Hai, Fir Us Avadhi Ke Ant Me Vah Vaapas Ghat Jaata Hai, Aur Is Tarah Agale Varsh Fir Se Charam Garmiyon Ke Lautane Tak Vah Poori Sardiyon Ke Dauraan Nichale Star Par Rahata Hai.
 Neel Nadi Ke Baadh Ka Kaaran Ethiopia Me Hone Vaali Barasaat Hai, Jo Ethiopia Ke Pahaadi Maidaanon Ki Mitti Ko Neeli Neel (Blue Nile) Wa Anya Sahaayak Nadiyon Ke Maadhyam Se Misr Ki Or Baha Laati Hai. Madhya Africa Se Ane Vaali Shwet Neel (White Nile) Ke Maadhyam Se Misr Me Bahut Jyaada Maatra Me Paani Nahi Ata Hai.
Shwet Neel Apne Saath Gaad Nahi Laati Hai—Jaisa Ki Isake Naam Se Zaahir Hai, ''Shwet'' Yaani Saaf-Suthara. Aswan Tak Pahunchate-Pahunchate Neeli Neel Ke Keechad Vaale Mausami Jal Ki Gati Dheemi Padane Lagati Hai. Raftaar Me Ayi Is Kami Ke Kaaran Paani Ke Saath Bahata Hua Gaad Tal Par Baithane Lagata Hai.
Isase Nadi Ka Tal Dheere-Dheere Samaya Ke Saath Uthala Hota Jaata Hai, Jisase Desh Ki Bhoomi Bhi Nirantar Nadi Ke Anuroop Apni-Apni Sthalaakritiyon Tatha Bahaav Ki Doori Ke Anusaar Parivartit Hoti Jaati Hai. Isaka Parinaam Yah Hota Hai Ki Paani Ke Tal Me Vriddhi Ane Ke Saath-Saath Paani Ki Satah Unchi Ho Jaati Hai Aur Isake Saath Hi Saath Neel Nadi Ki Ghaati Aur Isake Asapaas Ki Bhoomi Ki Unchaayi Me Vriddhi Ho Jaati Hai.
Is Prakaar, Ham Dekh Sakate Hain Ki Greesmakaal Ke Vaarsik Baadh Ke Kaaran Neel Nadi Ki Ghaati Saal Dar Saal Unchi Hoti Jaati Hai. Yah Jamaav Saal Dar Saal Thoda-Thoda Karake Ikattha Hota Jaata Hain. Jab Neel Ka Paani Aswan Tak Pahunchata Hai, To Isaki Gati Dheemi Pad Jaati Hai, Jisake Falaswaroop Talakshat Ka Jamaav Hota Hai. Aswan Me Baadh Ke Paani Ko Niyantrait Karane Ke Liye, Saadiyon Pahle Puraane Aswan Baandh Ka Nirmaana Kiya Gaya Tha. Nirantar Gaad Ke Kaarana, Har Kuchh Dashakon Me Baandh Ki Unchaayi Ko Lagaataar Badhaana Avashyak Tha. (Parishist Ka Me Chitra Dekhen)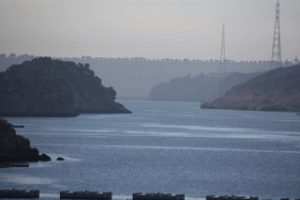 Udaaharan Ke Liye, Neel Dvaara Esna Me Har Saal Jamaaya Jaane Vaala Chauthaayi Inch Ke Naamamaatr Ki Motaayi Vaala Talakshat 2 Hazaar Saal Me Esna Ke Mandir Ko Dafan Karane Me Saksham Tha, Aur Aaj Ka Adhunik Esna Shahar Mandir Ki Chhat Se Kahi Adhik Unchaayi Par Basa Hai. (Parishist Ka Me Chitra Dekhen)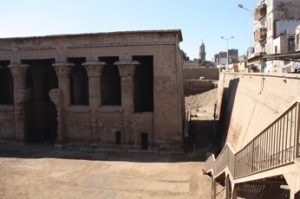 Jaisa Ki Ham Yahaan Dekhate Hai Ki Yah Mandir Puraane Mandiron Ke Chhat Par Banaaya Gaya Tha, Jo Ki Talachhat Ya Gaad Ke Saalaana Jamaav Ke Kaaran Dafan Ho Chuke The.
Samooche Misr Me Alag-Alag Jagahon Par Sthit Anekon Me Mandiron, Jaise Ki Edfu, Luxor Aur Abydos Aadi Me Is Jamaav Ki Samasya Ka Prabhaav Saaf Dikhaayi Deta Hai. (Parishist Ka Me Chitra Dekhen)
Yahaan Tak Neel Nadi Se Kaafi Door Bheetari Ilaaqe Me Sthit Abydos Me Hame Isaka Ek Aur Udaaharan Dekhane Ko Milata Hai, Jahaan Osirian Naamak Ek Bahut Puraani Vishaal Sanrachana Hai, Jo Naye Saamraajya Ke Osiris Ke Mandir Ke Theek Bagal Me Maujood Hai, Ise Raja Seti Pratham (1333-1304 Eisa Poorv) Aur Usake Uttaraadhikaari Ramses Dviteeya Dvaara Banaaya Gaya Tha. Yah Osirian Sanrachana Naye Saamraajya Ke Osiris Ke Mandir Ki Satah Se Kaafi Neeche Sthit Hai Aur Isaka Kuchh Hissa Bhaum Jalastar Ke Neeche Jalamagn Hai. Osirian Sanrachana Ki Neenv, Vartamaan Jalastar Se Kayi Fut Neeche Hai, Jo Naye Saamraajya Ke Samaya Se Lagabhag 20 Feet (18 Meter) Badh Chuka Hai.
Yahaan Yah Yaad Rakhana Zaroori Hai Ki Kayi Firaaun Ne Un Imaaraton Par Apne Naam Likh Chhode Hain, Jinhen Unhonne Nahi Banavaaya Tha. Isaliye, Agar Is Osirian Bhavan Ke Kuchh Hisson Par Seti Ne Apna Naam Likhava Diya To Isaka Matalab Yah Kattayi Nahi Ki Ise Seti Ne Banavaaya Tha.
Osirian Aur Seti Ke Mandir Ke Satah Ki Unchaayi Me Kaafi Antar Hai, Saath Hi Saath Inake Shailiyon Me Naatakeeya Antar Hone Ke Kaaran Kayi Vidvaanon Ki Raaya Hai Ki Osirian Bahut Puraani Imaarat Hai. (Parishist Ka Me Chitra Dekhen)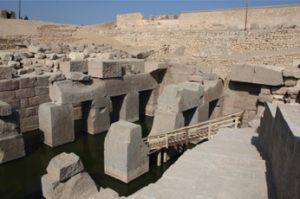 Misri Sabhyata Ki Ati Praacheenata Ke Saboot Osirians Se Lekar Giza Aur Samooche Misr Me Yahaan-Vahaan Phaile Pade Hain.
2. Praarambhik Bindu
Herodotus Ne Likha Hai Ki Unhen Misr Ke Pujaari Ne Bataaya Tha Ki Sooraj Jahaan Se Abhi Ugata Hai, Vahaan Do Baar Daoob Chuka Hai, Aur Jahaan Abhi Daoobata Hai, Vahaan Se Do Baar Ug Chuka Hai. Is Bayaan Se Zaahir Hota Hai Ki Praacheen Misravaasi Apne Itihaas Ko 25,920 Varson Ke Ek Raashi Chakra Se Zayaada Pahle Ka Maanate The.
25,920 Saal Ka Raashi Chakra Prithvi Ki Ladakhadaahat Bhare Ghoornaan Gati Ke Parinaamaswaroop Hota Hai, Kyonki Vaastav Me Prithvi Apne Aksh Par Nahi Ghoomati, Balki Vah To Kisi Lattu Ki Tarah Gol-Gol Ghoomati Hai. (Adhyaaya 11 Me Isake Mool Siddhaanton Ke Arekh Aur Vyaakhya Ko Dekhen.) Yadi Akaash Ko Ek Nakshatraeeya Pristhabhoomi Maana Jaaye, To Prithvi Ke Apni Dhuri Par Ghoomane Ki Vajah Se, Vaasantik Vishuv Prativarsh Nakshatraeeya Pristhabhoomi Me Dheere-Dheere Chadhata Hai.
Nakshatraon Se Hokar Vishuvon Ke Agragaman Se Baarah Raashi Yugon Ko Unaka Naam Milata Hai. Ek Raashi Chinh Se Agragaman Karane Men, Vishuv Ko Mote Taur Par 2160 Saal Lag Jaate Hain. Is Prakaar Vaasantik Vishuv Ko, Baarah Raashiyon Ke Nakshatraamandaal Ka Poora Paripath Paar Karane Me Lagabhag 25,920 Saal Lag Jaate Hain. Is Poore Chakra Ko Mahaavarsh Ya Sampoorna Varsh Kaha Jaata Hai.
Isaliye, Surya Ke Ast Tatha Udaya Hone Se Sambadhit Herodotus Ke Kathan Ka Matalab Hoga Ki Misravaasi Apne Itihaas Ko Ek Sampoorna Raashi Chakra Se Adhik Lamba Maanate The. Praacheen Misr Men, Vishuv Ke Poorvavarti Chakraon Ko Dekha Aur Darj Kiya Gaya Tha. (Adhyaaya 11 Me Khagol Vigyaan Dekhen).
Hamaara Vartamaan Raashi Chakra (Mahaavars/Sampoorna Vars) Singh Ke Yug Se Shuru Hua Tha:
Singh Ka Yug: 10948-8788 B.C.
Kark Ka Yug: 8787-6628 B.C.
Mithun Ka Yug: 6627-4468 B.C.
Vris Ka Yug: 4467-2308 B.C.
Mes Ka Yug: 2307-148 B.C.
Praacheen Misr Ka Itihaas 25,920 Varson Ke Sampoorna Raashi Chakra Me Phaila Hua Hai, Jisame Ek Aanshik Raashi Chakra Bhi Shaamil Hai, Jo 10948 B.C. Se Lekar Mes Yug Ke Ant Ke Us Daur Jaari Raha Jab Praacheen Misr Ne Apni Swatantrata Khoyi Thi. Atah, Praacheen Misr Ka Itihaas [25,920 + (10,948 – 148)] = 36,720 Saal Puraana Hai.
Ham Age Aur Bhi Alag-Alag Ganaanaaon Ke Maadhyam Se Isaki Praacheenata Ko Parakhenge.
Is Prakaar 36,000 Varsh Puraani Praacheen Misri Sabhyata — Dharati Par Jeevan Ke Arambh Hone Ki —Eisayi Tatha Pashchimi Maanyataaon Ke Vipareet Hain.
Dono Ki Maanyata Hai Ki Dharati Par Jeevan Takareeban 5000 Saal Puraana Hai. Falaswaroop, Yah Baat Baar-Baar Doharaayi Gayi, Ki Firaaun Mena (Ikteesaveen Shataabdi Eisa Poorv) Ne Misr Ko Ekeekrit Kiya Aur Praacheen Misri Sabhyata Ki Shuruaat Huyi.
Firaaun Mena (Menes) Ke Baare Me Baar-Baar Doharaaya Jaane Vaala Yah Mannmaana Aur Niraadhaar Daava Praacheen Misr Ke Itihaas Ki Shuruaat Ke Saakshyon Ke Vipareet Hai. Puraane Yunani Aur Roman Lekhakon Dvaara Misri Sroton Ko Apni Soochanaaon Ka Seedha-Seedha Ya Kisi Maadhyam Dvaara Adhaar Thaharaaya Jaana, Misri Sabhyata Ko In Pandaito Ke Mannmaani Maanyataaon Se Kaheen Adhik Praacheen Saabit Karata Hai.
Praacheen Misr Ke Firaaun Ka Kaalnirdhaaran Mena Ke Samaya Se Kiya Jaana Mool Roop Se Teesari Shataabdi Eisa Poorv Me Manetho Ne Shuru Kiya Tha. Manetho Ke Kaarya Kaalakalavit Ho Chuke Hain—Hamaare Paas Keval Sextus Africanus (221 A.D.) Tatha Caesarea Ke Eusebius (264-340 A.D.) Dvaara Ki Gayi Tippanaiyaan Hi Upalabdh Hain. Eusebius Ke Anusaar, Manetho Ne Firaaun Kaal Ke Misr Ki Ati Praacheenata Ka Varnaan Karate Hue Isaki Ayu 36,000 Varsh Bataayi Thi Jo Herodotus Ke Vivaranaon Ke Anuroop Hai. Yah Sicilya Ke Diodorus (Diodorus 1, 24) Tatha Turin Papyrus Ke Naam Se Mashahoor Praacheen Misri Dastaavez—Jo Satrahaven Rajvansh (1400 Eisa Poorv) Ke Samaya Ka Asali Misri Dastaavez Hai—Jaise Anya Vyaakhyaaon Tatha Saaksheeya Anusandhaanon Se Mel Khaata Hai.
Bhautik Saakshya Bhi Praacheen Misr Ke Puraatan Kaal Ka Samarthan Karate Hain — Baavajood  Is Tathya Ke Na Jaane Kitane Hi Puraataatvik Saakshya Neel Ghaati Ki Unchaayi Me Vriddhi Hone Ke Kaaran Vartamaan Jalastar Se Kaafi Neeche Dafan  Ho Chuke Hain. (Jaisa Ki Parishist Kh Me Chitraon Ki Sahaayata Se Bataaya Gaya Hai). Kayi Praacheen Misri Lekhon, Mandiron Tatha Maqabaron Ke Upalabdh Saakshya Yunani Evam Roman Lekhakon Ki Pushti Karate Hain. Udaaharan Ke Liye, Samooche Misr Ke Mandir Mool Roop Se Apne Rajvansheeya Itihaas Se Kaafi Pahle Nirmit Hone Ka Ishaara Karate Hain. Dendera Me Het-Heru (Hathor) Ke Mandiron Me Likhe Gaye Lekhon Me Spasht Roop Se Kaha Gaya Hai Ki Ptolemya Ke Samaya Me Punarnimit Kiya Jaane Vaala Mandir Chhathaven Rajvansh Ke Raja Pepi (2400 Eisa Poorv) Ke Samaya Ke Rekhaachitraon Par Adhaarit Hai. Ve Rekhaachitra Khaud Bhi Hazaaron Saal Puraane (Heru Ke Daason Ke Kaal Ke) Dastaavezon Ki Nakal The. Lekh Me Kaha Gaya Hai:
Do Bhoomiyon Ke Swaami … Pepi Ke Kaal Men, Men-Nefer (Memfis) Men, Ek Mnjoosa Ke Andar, Heru Ke Daason (=Menaa/Menas Ke Poorvavarti Rajaon) Ke Samaya Ke Chamade Ke Rol Par Likhe Puraane Lekhon Me Dendera Me Pavitraa Neenv Ka Zikr Hai.
Jaisa Ki Pahle Bataaya Ja Chuka Hai, Ki Bahut Saare Misri Mandiron Ke Dharaatal Ko Uncha Karana Padata Thaa—Is Baat Ki Pushti Herodotus Ne Bhi Ki Hai Evam Isake Bhautik Saakshya Samooche Misr Me Maujood Hain. Yahaan Tak Ki Kuchh Praacheen Misri Mandiron Ka Punorddhaar Yunani—Roman Kaal Me Bhi Kiya Gaya, Aur Un Sabhi Ko Un Praacheen Misri Yojanaaon, Prateekon, Devataaon, Chitraon Aadi Ke Anusaar Punarnimit Kiya Gaya Jo Yunani—Roman Yug Ke Kaafi Pahle Se Samooche Desh Ke Mandiron Aur Maqabaron Me Paayi Jaati Rahi Hain.
3. Singh Evam Sphinx Ka Yug
Hamaari Vartamaan Raashi Chakra Ka Arambh Singh Ke Yug (10948-8788 Eisa Poorv) Ke Saath Hua, Jisaki Prateek Giza Ki Mahaan Sphinx Hai, Jisaka Sir Maanav Ka Tatha Shareer Sher Ka Hai. Sphinx Ke Sthaan Par Maujood Aitihaasik Evam Bhautik Pramaana Dono, Is Aam Kintu Adhaaraheen Dhaarana Ke Baavajood Ki Sphinx Ko 2520-2494 Eisa Poorv Ke Dauraan Khafra (Chephren) Ke Shaashankaal Ke Dauraan Banaaya Gaya Tha, Isaki Ati Praacheenata Ka Sanket Dete Hain.
Giza Ke Pyramid Tatha Usake Nirmaata Firaaun (Khafra Sahit) Ke Baare Me Vistaar Se Likhane Vaale Herodotus Ne Sphinx Ke Nirmaana Ka Shreya Kabhi Khafra Ko Nahi Diya. Sphinx Ke Baare Me Likhane Vaale Anya Praacheen Lekhakon Ne Bhi Isake Nirmaana Ka Shreya Kabhi Kisi Khaas Firaaun Ko Nahi Diya.
Mahaan Sphinx Ki Praacheenata Ke Baare Me Bhautik Saakshya Ka Ek Shaanadaar Namoona, Unneesaveen Saadi Me Giza Se Praapt Praacheen Misri Shilaapatt Hai, Jise Amataur Par ''Taalika Shilaapatt Ya Inventorya Stela'' Ke Naam Se Jaana Jaata Hai. Yah Shilaapatt Khafra Ke Poorvavarti Khufu (Cheops 2551-2528 Eisa Poorv) Ke Shaashankaal Ke Dauraan Ki Ghatanaaon Ka Varnaan Karata Hai, Tatha Ingit Karata Hai Ki Khufu Ne Sphinx Ke Paas Ek Smaarak Ke Nirmaana Ka Adesh Diya Tha. Isaka Arth Yah Hua Ki Sphinx Khufu Ke Samaya Se Pahle Hi Vahaan Par Maujood Tha, Isaliye Yah Usake Uttaraadhikaari, Khafra (2520-2494 Eisa Poorv) Ka Banaaya Ho Hi Nahi Sakata.
Choonki ''Taalika Shilaapatt'' Se Pashchimi Pandito Ki, Khafra Ki Sphinx Ke Nirmaata Ke Roop Me Banee-Banaayi Dhaarana Khandait Hoti Thi, Isaliye Unhonne Shilaapatt Ko Yah Kah Kar Khaarij Kar Diya Ki Isaki Shaili Nav Rajvansh (1550-1070 Eisa Poorv) Ki Prateet Hoti Hai. Halanki Ise Khaarij Karane Ke Liye Yah Kaaran Paryaapt Nahi Hai, Kyonki Puraane Rajvansh (2575—2150 B.C.) Ke Kayi Shilaapatt Aur Lekh Hain, Jinaki Nakal Baad Me Naye Saamraajya Ke Kaal Me Ki Gayi, Aur Koyi Bhi Unaki Praamaanaikata Ko Khaarij Nahi Kar Paaya. Har Kaal Me Har Jagah Ke Log Puraane Dastaavezon Ki Nakal Karate Rahe Hain, Taaki Bhavisya Ki Peedhiyon Ke Liye Us Gyaan Ko Sanrakshit Kiya Ja Sake.
Jab Khufu Ne Mahaan Pyramid Ka Nirmaana Karavaaya To Sphinx Pahle Se Vahaan Maujood Tha, Is Baat Ke Taalika Shilaapatt Me Spasht Saakshya Hone Ke Baavajood Kuchh Log Khafra Ko Nirmaata Bataate Hain, Jabaki Unaki Yah Dhaarana Do Behad Sandehaaspad Adhaaron Par Tiki Hai:
Firaaun Twt Homosis (Tuthomosis) Chaturth (1413—1405 B.C.) Se Sambadhit Ek Shilaapatt, Jise Sphinx Ke Panjon Ke Beech Rakha Gaya Tha. Yah Ek Lamba Lekh Hai, Aur Kuchh Logon Ka Daava Hai Ki Khafra (Chephren) Ka Naam Us Par Prateet Hota Hai, Bhale Hi Kathit Naam Ke Asapaas Ki Likhaayi Aspasht Ho. Darasal Yah Sphinx Vaali Jagah Par Khafra Ka Naam Ghusaane Ka Hataasha Bhara Prayaas Hai.
2. Khafra Ke Pyramid Mandir Aur Ghaati Ke Mandir Ke Beech Lagabhag 1650 Feet (500 Meter) Lamba Ek Praveshadvaar Hai. Pashchimi Pandait Is Baat Par Khaoob Jor Dete Hain Ki Praveshadvaar Ki Maujoodagi Hi Khafra Ke Saath Isaka Sambandh Saabit Karane Ke Liye Paryaapt Hai, Halanki Sphinx Par Ya Is Mandir Me Is Tarah Ka Koyi Shilaalekh Nahi Hain.
Baad Me Hue Utkhananon Me Is Mandir Me Kayi Moortiyaan Praapt Huyin, Jisake Baare Me Daava Kiya Gaya Ki Vah ''Sphinx'' Ke Sar Ke Samaan Prateet Hoti Hain. Halanki, Jab Sphinx Ke Chehare Ki Rooparekha Par Moortiyon Ke Chehare Ki Rooparekha Ko Aropit Kiya Gaya To Dono Ke Beech Koyi Samaanata Nahi Paayi Gayi. Chaliye Agar Ham Us Shilaapatt Par Likhe Naam Ya Bemel Moortiyon Ke Daavon Ko Thodi Der Ke Liye Maan Bhi Len, To Isaka Sabase Achchha Yah Niskars Yah Ho Sakata Hai Ki Firaaun Khafra, Firaaun Twt Homosis Se Pahle Sphinx Ka Jeernaoddhaar Karaane Vaala Antim Firaaun Raha Ho Jisane Firaaun Twt Homosis Ke Kaal Se Lagabhag 1,000 Saal Pahle Usaka Jeernaoddhaar Kiya Ho.
Sphinx Ke Sthal Ke Bhautik Saboot Isaki Praacheenata Ko Raashi Chakra Ke Singh Yug Se Jodate Hain. Sphinx Ka Mool Sthaan, Ek Halki Dhalaan Vaala Samatal Tha, Jisaki Satah Kathor Chattaan Ki Thi. Sphinx Ki Mukhya Vishesataaon Me Vibhinn Bhaugolik Sthitiyaan Shaamil Hain, Jo Is Prakaar Hain:
 Sphinx Ka Sir Kathor Chattaani Parat Vaala Hai, Jo Praakritik Tatvon Se Isaki Suraksha Karata Hai.
Sphinx Ka Shareer Jagah-Jagah Se Nikaale Gaye Aise Pattharon Se Bana Hai, Jise Shareer Ke Akaar Me Dhaalana Asaan Tha. Sphinx Ka Shareer Naram Choona Patthar Se Banaaya Gaya Tha, Jisame Baaree-Baari Se Kathor Aur Naram Paraten Hain. In Paraspar Paraton Ko Sphinx Vaali Jagah Par Praakritik Ksharan Ke Roop Me Dekha Ja Sakata Hai, Jo Adhaarashila Se Lagabhag 2 Feet Ki Gaharaayi Me Hai.
Sphinx Ka Adhaar Aur Usake Saath-Saath Mool Utkhanan Sthal Ka Tal, Kathor Choona Patthar Se Bana Hai, Jo Praakritik Tatvon Se Isaki Suraksha Karata Hai.
Choonki Sphinx Ka Shareer Ek Gadadhe Me Sthit Hai, Isaliye Ise Bharane Aur Isake Shareer Ko Poori Tarah Se Dhnk Jaane Me 20 Saal Se Bhi Kam Samaya Lagata Hai. Pichhali Shataabdi Ko Apavaad Chhod Den, To Sphinx Hazaaron Saal Pahle Jab Se Bana Tab Se Ret Me Dhnka Hi Raha. Isaliye, Sphinx Hava Aur Ret Jaise Mausami Prabhaavon Se Surakshit Raha. Halanki, Sphinx Ke Shareer Par Ksharan Ke Jaise Nishaan Maujood Hain, Theek Vaise Hi Ksharan Ke Saaf Nishaan Do Feet Ki Gaharaayi Me Utkhanan Ke Gadadhe (Sphinx Ke Shareer Ke Chaaron Or) Ki Deevaaron Par Maujood Hain. Zaahir Hai, Ye Shila Aur Sphinx Dono Vahaan Is Prachnda Mausam Ki Ghatana Se Pahle Se Maujood The.
Kayi Pandito Ne Yah Maan Kar Sntos Kar Liya Hai. Ki Paani Ke Kaaran Sphinx Ke Shareer Ka Ksharan Hua. Yahaan Prashn Yah Uthata Hai: Aakhir Paani Se Is Prakaar Ki Vichitra Ksharan Akriti Kaise Banee? Bhoojal Ko Is Tarah Ke Ksharan Ka Kaaran Nahi Maan Sakate, Kyonki Ek Anumaan Ke Mutaabik Khafra Ke Samaya Ka (2520-2494 B.C.) Jalastar Vartamaan Jalastar Se 30 Feet (9 Mi.) Neeche Tha. Doosare Shabdon Men, Bhoojal Ke Kaaran Do Feet Gahare Sphinx Ke Shareer Tatha Khudaayi Ke Gadadhe Ki Deevaaron Ka Ksharan Ho Paana Asambhav Hai.
Jaisa Ki Is Adhyaaya Ki Shuruaat Me Spasht Kiya Gaya, Ki Hazaaron Varson Ke Samayaavadhi Me Neel Nadi Ke Jal Se Dheere-Dheere Ghaati Ke Maidaan Par Atirikt Talakshat Jama Hota Gaya. Jaise-Jaise Jameen Ki Unchaayi Badhati Gayi, Vaise-Vaise Jalastar Bhi Uncha Hota Gaya. Isaliye Sphinx Vaali Jagah Par Bhoojal Ke Kaaran Ksharan Vaale Siddhaant Ke Khilaaf Behad Pukhta Saboot Hain. Isake Alaava Is Baat Ka Koyi Aur Tarkasangat Uttar Nahi Hai, Sivaaya Isake Ki Pichhale Himayug Ke Ant (15,000-10,000 B.C.) Me Paani Ka Ksharan Hua. Bhoovigyaani Maanate Hain Ki Misr Pichhale Himayug Ke Ant Me Bheesana Baadh Ka Shikaar Hua Tha.
Sphinx Ki Praacheenata Ka Ek Aur Zabardast Saboot, Sphinx Ke Khandaahar Mandir Ke Saamane (Sphinx Ke Saamane Sthit, Tatha Janata Ke Liye Band) Hue Ek Haaliya Drill Se Yah Rahasya Saamane Aya Ki, 54 Feet (16. 5 Meter) Ki Gaharaayi Par Laal Granite Maujood Hai. Granite Uttari Misr Me Nahi Paaya Jaata Aur Yah Keval Aswan Se A Sakata Hai, Jo Vahaan Se 1,000 Mile Dakshin Me Sthit Hai. Itani Gaharaayi Me Granite Ki Upasthiti, Ek Pramaana Hai Ki Yahaan Par Nirmaana Sambandhi Gatividhiyaan 3000 Eisa Poorv Ke Bahut Pahle Se Chaalu Theen—Jab Yahaan Ki Bhoomi Ki Satah Hamaare Vartamaan Satah Se 54 Feet (16. 5 Meter) Neeche Thi.
Antatah, Uparokt Damadaar Bhautik Aur Aitihaasik Pramaana Hame Is Tarkasangat Niskars Ki Or Le Jaate Hain, Ki Khafra Ne Sphinx Ka Nirmaana Nahi Karaaya Tha, Balki Vah Un Anekon Firaaun Me Se Ek Tha, Jinhonne Samay-Samaya Par Isaka Jeernaoddhaar Karaaya. Praakritik Kaaranaon Se, Praacheen Misri Smaarakon Ko Har Kuchh Dashakon Ya Shataabdiyon Me Jeernaoddhaar Kiye Jaane Ki Avashyakata Padati Thi. Giza Ke Sphinx Ke Pramaana Ise Raashi Kaal Ke Praacheen Misri Prateek, 13,000 Varsh Poorv Ke Singh Yug Se Sambandhit Hone Ki Taraf Ishaara Karate Hain.
Is Kitaab Ke Parishist  Men, Is Upakhanda Ke Lekh Ke Samarthan Vaali Kayi Tasweeren Milengi. Chitra Me Pradarshit Kiya Jaayegaah
Sphinx—Saamaanyaa Sthaan, Vah Mool Sthaan Jahaan Sphinx Sthit Hai, Ek Halki Dhalaan Vaala Samatal Tha, Jisaki Satah Kathor Chattaan Vaali Thi.
-Sphinx—Sphinx Ka Sheersh
-Sphinx— Sphinx Ke Gadadhe Ka Kathor Adhaar
-Sphinx—Shareer Ka Ksharan
-Sphinx—Sphinx Ki Deevaaron Ka Ksharan
-Sphinx— Gadadhe Aur Shareer Par Ksharan Ki Akritiyaan
-Sphinx— Hava Aur Ret Se Praakritik Sanrakshan
-Sphinx—Shuruaati Unneesaveen Sadi
-Sphinx—Pathaar Se 150 Feet (46 Meter) Upar Sthit Khafraa Ke Pyramid Mandir Me Maujood Sphinx Ke Shareer Par Bhi Ksharan Se Theek Aisi Hi Akritiyaan Baneen Hain. Is Mandir Ke Maamale Me Nishchit Roop Se Koyi Bhoojal Jaisi Koyi Baat Nahi Ho Sakati. To Fir Ham Theek Usi Prakaar Ke Ksharan Ki Vyaakhya Kaise Karenge? Isake Alaava Is Baat Ka Koyi Aur Tarkasangat Uttar Nahi Hai, Sivaaya Isake Ki Paani Ka Yah Ksharan Pichhale Himayug Ke Ant (15,000-10,000 B.C.) Me Hua.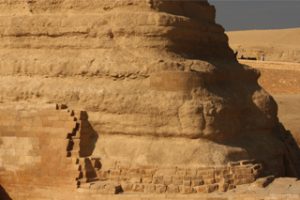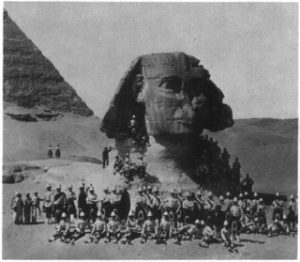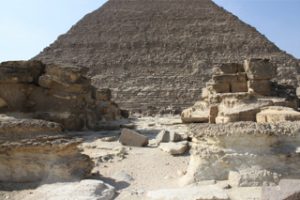 [isaka ek ansh:Praacheen Misri Sanskriti Ka Rahasyodghaatan -Vistaarit Dviteeya Sanskaran dvaara likhit Moustafa Gadalla]
par pustak saamagree dekhen https://egypt-tehuti.org/product/praacheen-misri-sanskriti-ka-rahasyodghaatan/
————————————————————————————————————————-
Pustak kray aautalet: 
e – printed peparabaik amejan se upalabdh hain.
—–
bee – peedeeeph praaroop mein upalabdh hai …
i- svaroop vikalp daeen or.
ii- googlai pustaken aur googlai play
—–
ch- mobee praaroop mein upalabdh hai …
i- svaroop vikalp daeen or.
ii- amezan
—–
d- eepab praaroop mein upalabdh hai …
i- daeen or ithai praaroop vikalp.
ii- googlai pustaken aur googlai play
iii- ibooks, kobo, b & n (nook) aur smashwords.chom